CivilNet political commentator Erik Hakobyan in his program this week refers to the news about a possible trilateral meeting of the leaders of Armenia, Azerbaijan and Russia on November 9.
The fact that this meeting is between these three countries, not in the OSCE dimension, is not a positive circumstance. It is obvious that the driving force of that meeting is Russia և President Vladimir Putin, who said, of course, Russia should be involved, as the Russian General Staff has only maps of all the borders of the USSR. Russia's possible motives are twofold: to control all these transport routes, to further marginalize Georgia by establishing dominance over transport routes in the region.
About demarcation
Let's start with the issue of demarcation. Demarcation is not a bad thing in itself, it must happen sooner or later. But we must beware of many traps. First, when we talk about borders, what borders are we discussing? Because there are state borders between Soviet Armenia and Azerbaijan in the 1920s, in 1991. And part of the problem is that the borders of 1991, when the USSR collapsed, were much more problematic for the Armenian side than the borders of the 1920s.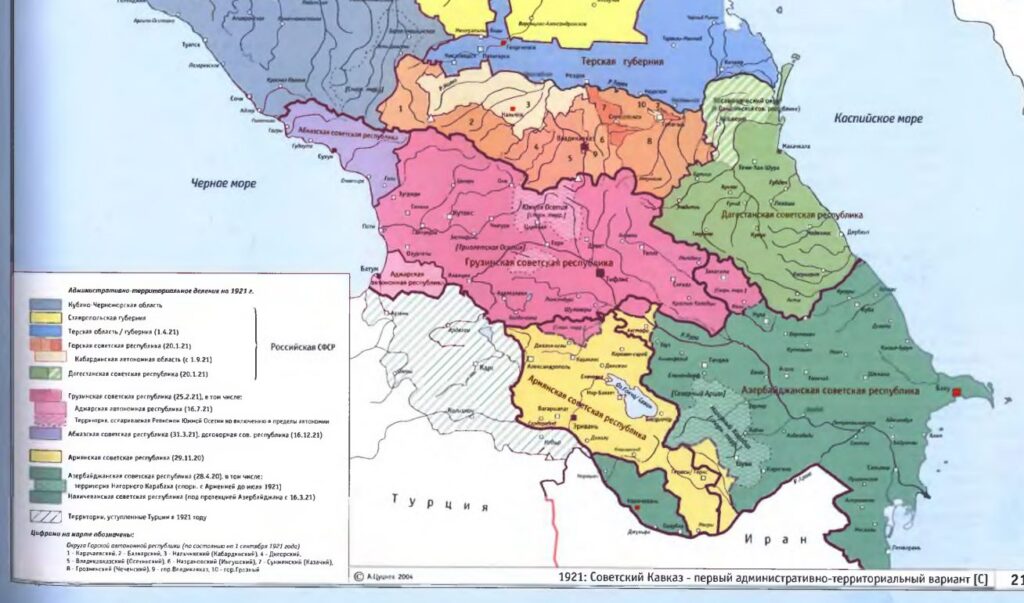 The reason for this is the systematic theft of Armenian territories by the Azerbaijani regime during the 70-80 years of Soviet rule. When we look at the map of 1920, there was a full land connection between Armenia and Artsakh through the territory of Berdzor or Lachin, which was isolated over time and turned Artsakh into an island in Azerbaijan.
About the enclaves
There were several enclaves between Soviet Armenia and Azerbaijan: the Armenian enclave in Azerbaijan and the Azerbaijani enclaves in Armenia. Frankly, there is no good reason for their existence, they are very problematic, and we should not be in favor of rebuilding the enclaves, because although they are almost equal in area, in Soviet times the Azerbaijani enclaves actually cut off our internal roads, so we need We must oppose the restoration of the enclaves.
Second, present-day Azerbaijan considers itself the legal successor of the first republic of Azerbaijan. All these enclaves were established during the USSR, so from a legal point of view at least they should not have any ambitions towards any of these enclaves.
The issue of Artsakh is an essential part of the demarcation issue. Because the Azerbaijani side will accept Armenia's capitulation on the issue of recognizing Artsakh, because when you demarcate your border, you say that Artsakh remains on the other side of the border, that it is not an independent Armenian state, but part of Azerbaijan. However, there are various diplomatic means to clarify that demarcation does not mean any solution to the issue of Artsakh's status. If it is possible to achieve this, I think the demarcation is favorable for us, obviously any demarcation should include the immediate and complete withdrawal of Ali's troops from the parts of Armenia that it has occupied in the last year.
On unblocking regional communications
We must emphasize again that opening any transport route through Armenia, Azerbaijan, Russia and Iran is a very good thing. In fact, it is more favorable for Armenia than for Azerbaijan, because the Ali's regime has much more transportation options than we do.
Probably a factor as to why they're doing so poorly.
As we know, the dictator of Azerbaijan threatened war with the creation of a corridor controlled by them through Syunik, which will lead to Nakhichevan. What should be our position on this issue?
First, the opening of the railways, which will connect our railway with Iran and Russia through Azerbaijan, will allow the railway connection between Nakhichevan and Azerbaijan, is a concession for which we should be happy. It is really beneficial for us, it has very little significance for the other side. However, we can not allow any kind of corridor through Syunik to be controlled by Ali's regime. I would say that any government in Armenia that agrees to it will not have more than a few days to live.
There are models that can be seen, for example, Kaliningrad, which is a Russian enclave isolated from the Lithuanian border. The road through Lithuania connects Kaliningrad with Russia. That model works well. If we were to create such a scenario in Syunik, it would be acceptable only if we had the model connecting Armenia to Artsakh. Otherwise, there can be no such thing.
There are many contradictions and misunderstandings about all this, մեկն one of the reasons is that our public sector communicates so badly with the public on any topic.
These meetings are covered with a veil of mystery ․ Nobody knows whether they happen or not, what has been discussed so far! There is a complete lack of communication from the Foreign Ministry, the Prime Minister or the government to explain what these negotiations are.
Of course, in case of such negotiations, not all the current details are made public, the negotiations in the international arena are not like that. However, we are a democratic state, it is very possible for the state to clarify what its red lines are, what it seeks to achieve through those negotiations. This is the primary difference between us and them. Ali does not explain anything, he is the state, he is the country. We are different, our state must work very well to explain to us what these negotiations are for, what goal they want to achieve, what it will not accept.
Translation by Zara Poghosyan